[TheTelegraphUK] UK privacy watchdog to crack down on tech giants amid Facebook and Yahoo investigations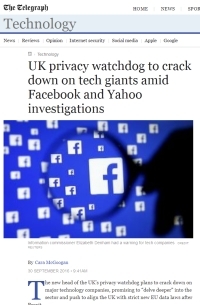 The new head of the UK's privacy watchdog plans to crack down on major technology companies, promising to "delve deeper" into the sector and push to align the UK with strict new EU data laws after Brexit.
In her maiden speech as information commissioner, Elizabeth Denham warned companies that deal with vast amounts of customer data that they could face investigation under her new regime and, if found to be mishandling information, potentially strict penalties. [...]
Since Ms Denham took on the new position 10 weeks ago she has already launched investigations into Facebook and Yahoo, following a controversial change in WhatsApp's privacy policy and Yahoo's loss of millions of users' information. [...]
Ms Denham also said that she will be push for the UK to adopt new data protection legislation that is in line with the EU's General Data Protection Regulation, which requires mandatory data breach disclosure, gives consumers more powers of consent over how companies can use their data, and introduces the power for regulators to levy fines of up to 4pc of global annual turnover. [...]
http://www.telegraph.co.uk/technology/2016/09/30/uk-privacy-watchdog-to-...