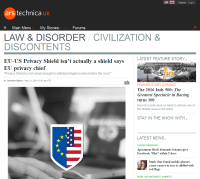 In a move that has surprised no one, Europe's privacy chief has slammed the planned EU-US agreement to facilitate the flow of personal data across the Atlantic […].
On Monday evening the European Data Protection Supervisor (EDPS), Giovanni Buttarelli, said that while he appreciates "the efforts made to develop a solution to replace Safe Harbour", "the Privacy Shield as it stands is not robust enough to withstand future legal scrutiny before the court" […].
Buttarelli also said "significant improvements are needed should the European Commission wish to adopt an adequacy decision. Moreover, it's time to develop a longer term solution in the transatlantic dialogue" […].
http://arstechnica.co.uk/tech-policy/2016/05/eu-us-privacy-shield-giovanni-buttarelli-analysis/