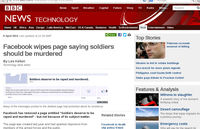 Facebook has removed a page entitled « Soldiers deserve to be raped and murdered » – but not because of its subject matter. […]
Facebook's Community Standards state that it will remove content where it perceives there to be a « genuine risk of physical harm » and that members may not « credibly threaten others, or organise acts of real-world violence ».
However, a spokesman for the social network indicated that the threat had not been specific enough for its complaints team to act on. […]
By contrast, La Quadrature du Net (Squaring the Net) – a Paris-based group that campaigns for internet users' rights – said it was concerned that a company with as much influence as Facebook should be left to make such decisions.
« A judge may or may not have considered that this was a direct call to violence, and on that ground may or may not have asked Facebook to remove it – and this is how it should be, » said the group's co-founder Jeremie Zimmermann.
« [Instead] Facebook has become a sort of parallel justice with its own rules that we cannot fully understand.
« This is a major problem for whoever believes their speech is protected on Facebook. » […]
http://www.bbc.com/news/technology-26938007