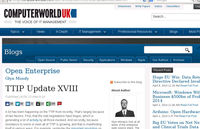 Summary: New leaks, new Web sites, a hidden threat from the « most-favoured nation » approach, and an astonishing claim that Germany wants ISDS out of TTIP
A lot has been happening on the TTIP front recently. That's largely because of two factors. First, that the real negotiations have begun, which is generating a lot of activity by all those involved. And secondly, because resistance to some or even all of TTIP is growing, and that is manifesting itself in various ways. For example, yesterday the important resolution on NSA surveillance passed by the European Parliament included the following key recommendation:
Parliament should withhold its consent to the final Transatlantic Trade and Investment Partnership (TTIP) deal with the US unless it fully respects EU fundamental right […].
http://blogs.computerworlduk.com/open-enterprise/2014/03/ttip-update-xviii/index.htm