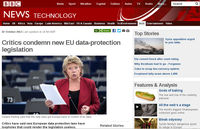 Critics have said new European data-protection laws have loopholes that could render the legislation useless. The rules are the first attempt to create strong data-protection laws for Europe's 500 million citizens. They include a clause to strengthen online privacy in the wake of whistleblower Edward Snowden's allegations about US spying. […]
But French consumer group La Quadrature du Net was disappointed with the draft law. « There are some big loopholes that could void the effectiveness of the whole legislation, » said Jeremie Zimmermann, from the organisation. He said vague wording such as « legitimate interest » could allow businesses to « exonerate themselves from the legislation ». « A business could say that it is a legitimate interest to collect data in order to provide a better service for consumers or to enable it to make money, » he said.
He was also surprised that the rules around data profiling were not tougher. « Machines that crunch data are used to make important decisions such as who can get a job, who can get a loan, who can get insurance, » he said. « This legislation allows firms to continue to collect and process more data and profile individuals. » […]
Now begins a long process during which the approved legislation will be debated among between the European Commission, the European Parliament and the European Council.
http://www.bbc.co.uk/news/technology-24622919