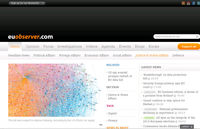 After 18 months of intense negotiations, MEPs spearheading the European Data Protection regulation have reached a compromise.
The heavily lobbied draft bill, which included a record-breaking 4,000 amendments, is now set for a committee orientation vote in the next plenary session in Strasbourg. […]
The document will bypass plenary debate and vote in order to kick start inter-institutional negotiations to reach a more timely agreement.
But Paris-based Internet campaign group La Quadrature du Net described the parliament's tactic as an "obscure hijacking of the democratic debate" because of the closed-door nature of such meetings.
"The only objective of the negotiating team in this manoeuvre seems to be able to boast about this regulation being the best achievement ever reached in the field of data protection, even if that is yet far from the case and could even get worse," noted the group in a statement. […]
http://euobserver.com/justice/121817