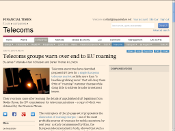 Telecoms executives have described proposed EU laws for a single European telecoms market as little more than "a headline grabbing move" that will deny them €7bn of "roaming" customer charges while doing little to address broader investment issues. […]
Matthias Kurth, chairman of Cable Europe, the industry body representing groups such as Liberty Global and Virgin Media, said the proposals had several positive aspects.
"There are elements in the legislation that in the long-run will enhance infrastructure-based competition … which in turn will lead to less and not more regulation – this is positive."
He added that the draft legislation appeared to allow operators to enter into commercial agreements with internet content providers over certain services, without necessarily challenging the principle of net neutrality.
http://www.ft.com/intl/cms/s/0/ecd7ada6-e978-11e2-9f11-00144feabdc0.html