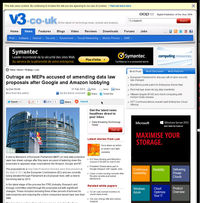 A vote by Members of European Parliament (MEP) on new data protection laws has drawn outrage after they were accused of watering down the proposals to appease large corporations like Amazon, Google and BT. […]
However, others were less than impressed, with advocacy group La Quadrature du Net saying the vote jeopardized citizens' privacy at the expense of big business.
[They] « have voted to water down the safeguards protecting our privacy, as corporate lobbies had hoped, » it said in a statement.
« The lobbying pressure in the European Parliament from industrial actors has reached a state of unique intensity. » […]
http://www.v3.co.uk/v3-uk/news/2249727/outrage-as-meps-accused-of-amending-data-law-proposals-after-google-and-amazon-lobbying