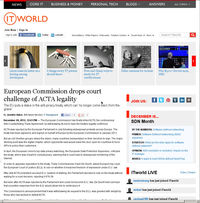 The European Commission has finally killed ACTA, the controversial Anti-Counterfeiting Trade Agreement, by withdrawing its bid to have the treaty's legality confirmed.
ACTA was rejected by the European Parliament in July following widespread protests across Europe. The treaty had been agreed to and signed on behalf of Europe by the European Commission in January 2012. […]
« Withdrawal of ECJ referral of ACTA shows that citizens were right, and that Commissioner DeGucht was wrong and lying, » tweeted Jeremie Zimmerman of the digital liberties group La Quadrature du Net.
http://www.itworld.com/it-management/329357/european-commission-drops-court-challenge-acta-legality