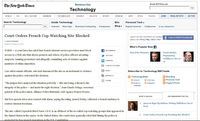 A court here has ruled that French Internet service providers must block access to a Web site that shows pictures and videos of police officers arresting suspects, taunting protesters and allegedly committing acts of violence against members of ethnic minorities.
[…] free speech advocates reacted with alarm, saying the ruling, issued Friday, reflected a French tendency to restrict Internet freedoms.
"This court order illustrates an obvious will by the French government to control and censor citizens' new online public sphere," said Jérémie Zimmermann, spokesman for La Quadrature du Net, a Paris-based organization that campaigns against restrictions on the Internet.