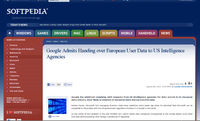 Google has admitted complying with requests from US intelligence agencies for data stored in its European data centers, most likely in violation of European Union data protection laws.
At the center of this problem is the USA PATRIOT ACT, which states that companies incorporated in the United States must hand over data administered by their foreign subsidiaries if requested.
This situation poses a serious problem for companies like Microsoft, Google or Amazon, which offer cloud services around the world, because their subsidiaries must also respect local laws.
http://news.softpedia.com/news/Google-Admits-Handing-over-European-User-Data-to-US-Intelligence-Agencies-215740.shtml