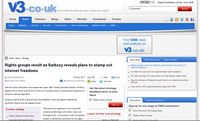 Internet rights advocates have expressed anger after French president Nicolas Sarkozy opened the first ever e-G8 forum in Paris on Tuesday with an impassioned argument to increase internet regulation.
Sarkozy said that the same privacy and protection rules that govern democratic countries should also be applied online. […]
A press conference is being held today to rally support for the campaign, attended by spokespeople from Icann, Reporters Without Borders and La Quadrature du Net (LQN).
« The world's most developed economies are poised to impose strict copyright enforcement and heavy-handed government regulation of the internet, » said a joint statement by LQN and non-profit organisation Access Now.
http://www.v3.co.uk/v3-uk/news/2073785/rights-revolt-sarkozy-reveals-plans-stamp-internet-freedoms