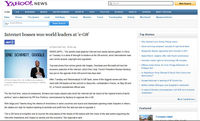 With blogs and Tweets oiling the wheels of revolutions in some countries and scans and downloads sparking trade disputes in others, the stakes are high for leaders seeking to promote and profit from the web but also to regulate it.
« Under the guise of a pseudo-consultative process, it is the governments' desire to control the Internet a bit more that is becoming apparent, » French Internet freedom campaign group Le Quadrature du Net wrote on its website.
« Behind the smokescreen of this 'forum', citizens must hold world leaders more responsible for their actions and denounce the many continual breaches of their liberties. »
Media freedom campaigners including Reporters Without Borders have criticised moves by some European countries, such as a recent French law making web users liable to prosecution if they illegally download films and music.
http://news.yahoo.com/s/afp/20110522/ts_afp/g8franceinternetmediaindustry