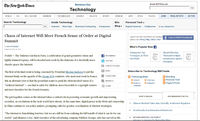 The first-of-its-kind event is being convened by President Nicolas Sarkozy to put the Internet firmly on the agenda of the Group of 8 countries […]. But an alternate view is that the president wants to push his often-invoked vision of a "civilized Internet" — one that is safer for children, more favorable to copyright owners and more lucrative for the French treasury.
The get-together comes as the Internet takes a central role in powering economic growth and empowering societies, as revolutions in the Arab world have shown. At the same time, digital piracy in the West and censorship in China continue to vex policy makers, prompting calls for greater coordination of Internet strategies.
"In spite of a harmless sounding rhetoric, the E-G8 Forum is a smokescreen to cover control of governments over the Internet," wrote Jérémie Zimmermann, a spokesman for La Quadrature du Net, a group that campaigns against restrictions on the Internet.