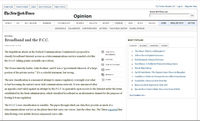 The Republican attack on the Federal Communications Commission's proposal to classify broadband Internet access as a telecommunications service sounded a lot like the G.O.P. talking points on health care reform.
The new classification is a measured attempt to ensure regulatory oversight over what is fast becoming the nation's most vital communications network. […]
The argument that the F.C.C. wants to take over the Internet is a red herring. […] It explicitly vowed not to invoke many old cumbersome provisions, such as price regulation.