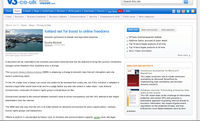 A document will be submitted to the Icelandic parliament tomorrow that has the potential to bring the country's inhabitants stronger online freedoms than anywhere else in Europe.
« In the UK a letter from a lawyer can cause any content to be removed from a web site, but if this initiative is adopted in Iceland a legal letter would have to be sent to a judge before any web site content is taken down, » said Jérémie Zimmermann, co-founder of citizens' rights group La Quadrature du Net.
Zimmermann pointed to the contrast between Iceland's move to online transparency and the UK's attempt to ban illegal downloaders from the internet.
http://www.v3.co.uk/v3/news/2257909/iceland-set-europe-strongest