[Vice] Were 11 Spanish Anarchists Arrested for Using Secure Email?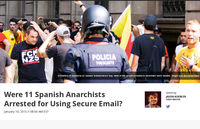 In mid-December, 11 Spanish anarchists were arrested by Catalan police in Barcelona, and it now appears they were detained at least in part because they were using an encrypted suite of secure communication tools known as Riseup.net. At the moment, seven of them are still waiting to stand trial. No formal charges have been made public. […]
More details are sure to come out, but for now, the Spanish government isn't talking. Lawyers for those detained maintain the group's innocence. And with little transparency in the whole process so far, it's unfortunately looking like using secure internet services can make you a target. […]
http://motherboard.vice.com/read/were-11-spanish-anarchists-arrested-for...