[TechDirt] License Plate Reader Company Sues Another State For 'Violating' Its First Amendment Right To Build A 1.8-Billion-Image Database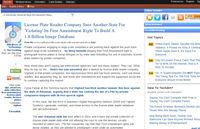 Private companies engaging in large-scale surveillance are [...] filing lawsuits alleging their First Amendment right to photograph license plates is being infringed on by state laws forbidding the use of automatic license plate readers by private companies.
[...] Vigilant [a private company] has filed another lawsuit, this time against the state of Arkansas, arguing that a state law curbing the use of LPRs [licence plate readers] by private companies tampers with its free speech rights. [...]
https://www.techdirt.com/articles/20140613/09224127569/license-plate-rea...