[Techdirt] Canadian Government Refuses To Release Any Text Of CETA, While Claiming It's Mostly Finished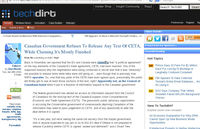 Back in November, we reported that the EU and Canada were claiming that "a political agreement" on the key elements of the Canada-EU trade agreement, CETA, had been reached. One of the supposed reasons why the negotiations were being conducted in secret was that it was "obviously" not possible to release texts while talks were still going on -- even though that is precisely how WIPO operates. So, now that key parts of the CETA have been agreed upon, presumably the public will finally get to see at least those sections of the text, right? Apparently not, as the Council of Canadians found when it put in a freedom of information request to the Canadian government:
The federal government has denied an access to information request from the Council of Canadians for the working text of the Canada-European Union Comprehensive Economic and Trade Agreement (CETA).
http://www.techdirt.com/articles/20140117/07452025918/canadian-governmen...