[PcAdvisor] Swedish police, service providers on collision course over direct access to user data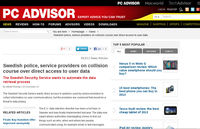 Swedish police have requested direct access to tools currently only accessible to Internet Service Providers (ISP) that allow tracking data on customers such as "who, when and where two people communicated using, for example email or text messages". Although the Security Service argued that this "would decrease the risk for potential errors that could occur when the process is done manually" not all ISPs are on board. "Our primary task is to protect the privacy of our customers and we feel we can't do that with an automated process," said Iréne Krohn, senior media relations manager at TeliaSonera.
Moreover, a spokesperson from the Swedish Post and Telecom Authority questioned whether automating would even be legal as ISP are required to "check [...] the decision behind the request," said Staffan Lindmark, a lawyer at PTS.
"On a European level, the implementation of the data retention directive is out of control, according to Joe McNamee, executive director at European digital rights group EDRi. "The problem we have is that the European Commission is quite happy to take action against member states if they haven't implemented the directive, but any amount of over-implementation and lack of safe guards present no problem at all for the commission," he said.
http://www.pcadvisor.co.uk/news/tech-industry/3490254/swedish-police-ser...