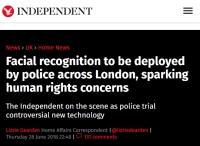 Millions of people face the prospect of being scanned by police facial recognition technology that has sparked human rights concerns.
The controversial software, which officers use to identify suspects, has been found to be "staggeringly inaccurate", while campaigners have branded its use a violation of privacy. […]
Hannah Couchman, an advocacy and policy officer at Liberty who monitored the trial in Stratford, described the technology as "lawless".
"There's no dedicated legislation, there's no guidance, there's no good practice," she said. "It's staggeringly inaccurate and this sort of technology has been shown in America has shown to be actively biased and misidentify women and black people". […]
https://www.independent.co.uk/news/uk/home-news/facial-recognition-londo…