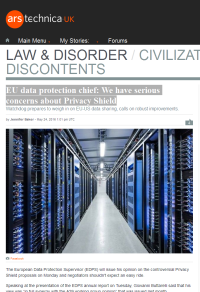 The European Data Protection Supervisor (EDPS) will issue his opinion on the controversial Privacy Shield proposals on Monday and negotiators shouldn't expect an easy ride.
Speaking at the presentation of the EDPS annual report on Tuesday, Giovanni Buttarelli said that his view was "in full synergy with the A29 working group opinion" that was issued last month. […]
The A29—or Article 29—group is made up of data protection authorities from across the EU and its report was extremely critical of the planned Privacy Shield deal to facilitate the transfer of EU citizens personal data to the US. The Privacy Shield plan was drawn up after the European Court of Justice ruled the Safe Harbour agreement invalid last year, saying that there were not sufficient safeguards for personal data under the voluntary scheme.
The A29 group acknowledged that the proposed Privacy Shield arrangement was an improvement on Safe Harbour, but demanded clarifications on many points. Buttarelli argued that while, certainly, clarifications are needed, Safe Harbour should not "define the parameters" of the debate—the measure by which Privacy Shield should be judged is the current data protection directive he said. […]
http://arstechnica.co.uk/tech-policy/2016/05/eu-data-protection-chief-we-have-serious-concerns-about-privacy-shield/