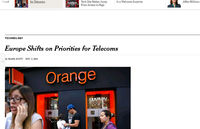 […] the [EU]'s top policy makers [are set to give] investment and costlier [telecom] services higher priorities than affordability and antitrust worries.
The details of their plans are expected take shape now that a new European Commission, the executive arm of the European Union, began its five-year term on Saturday.
The commission's new digital chiefs recently expressed support for plans that would loosen the region's strict rules on telecom mergers.
"Concentration in the telecom market gives space for business models that limit online freedom," said Jérémie Zimmermann, co-founder of La Quadrature de Net, a consumer advocacy group based in Paris. […]