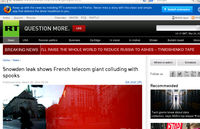 French telecommunications operator Orange S.A. has been cooperating "closely" with French security services in intelligence gathering operations, according to the most recent Snowden leak, Le Monde reports.
According to an internal document of the British Government Communications Headquarters (GCHQ) intelligence agency, France's General Directorate for External Security (DGSE) has been closely coopering with "a French telecommunications operator," which the French daily concludes is Orange S.A., formerly France Telecom S.A. […]
[…] according to Le Monde, Orange S.A. has given the DGSE access to [its] underwater cables. Access is also given to the telecom giant's mobile subsidiaries abroad, which have been employed in recent French military interventions in Mali and the Central African Republic.
http://rt.com/news/snowden-france-orange-dgse-121/