Paris, 3 December 2013 — Yesterday the 2014-2019 defense bill passed first reading in the French National Assembly. It marks a strong shift towards total online surveillance. If passed, the bill will not only allow live monitoring of everyone's personal and private data but also do so without judicial oversight, as the surveillance will be enabled through administrative request. The bill also turns permanent measures that were only temporary.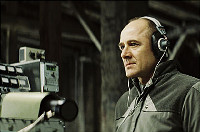 How is it possible that after only a few months of Edward Snowden's revelations the French government proposes a bill so detrimental to our fundamental rights? Article 13 of the bill organises the generalisation of live surveillance of "information and documents processed and stored in the networks", which potentially concerns the data of all citizens. Such surveillance requests can be issued by a wide variety of departments, including the departments of Internal Security and Defense, but also the department of Economy and Finance. The inclusion of such departments exceeds what is required to meet the stated aim of protecting the citizen against incidents of an exceptional seriousness. Indeed, the proposed bill permits these departments to authorise live surveillance of all citizens with the sole stated aim to "prevent […] organized crime" or the particularly vague "safeguard of essential components of scientific and economic potential of France".
Data collection will not only be done directly via companies providing Internet access (ISPs and telecommunication operators) but also via web hosting operators and online service providers. Despite the gravity and magnitude of this collection, no measure significantly limits their volume. The data collection could be done by installing devices that capture signals and data directly at the operators and hosting companies. The definition of these operators and companies, taken from 2004 Loi pour la confiance dans l'économie numérique ("Act for Trust in the Digital Economy"), cause concerns that the scope of application will be very wide.
"Considering the recently uncovered evidence of massive and generalised spying on citizens, the maneuvers of the President and of the government deceive no one. This bill sets up a generalised surveillance regime and risks to destroy once and for all the limited trust between citizens and agencies responsible for security. A vague reference to the needs of the security agencies does not justify such serious infringements to our basic liberty. La Quadrature du Net calls on parliamentarians to reject this infringement to basic rights during the second reading of the text" concludes Philippe Aigrain, cofounder of La Quadrature du Net.