Paris, 11 November 2013 — While the second negotiation round of the US-EU Trade Agreement, TAFTA (also known as TTIP), has just started, La Quadrature du Net issues a solemn warning to all negotiators against the risk of elaborating policies that would impact hundreds of millions of citizens without any form of democratic legitimacy. La Quadrature du Net calls on citizens to participate to its effort to expose the TAFTA negotiators and their eventual conflicts of interests, while urging individuals with access to negotiation documents to leak them to the public without delay.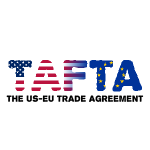 TAFTA will not only affect economy and trade. The EU Commission negotiation mandate already allows the negotiation of a "comprehensive"1"2. The Agreement shall be ambitious, comprehensive, balanced, and fully consistent with World Trade Organisation (WTO) rules and obligations." agreement, covering a wide range of fields as varied and significant as agriculture, access to medicines, data protection2The legislation under development in the European Parliament on this issue could even be delayed in order not to be in conflict with TAFTA and US interests., copyright, food safety, or investor-state dispute settlement3This issue is particularly worrying: it could give to foreign compagnies the capacity to sue governments for what they perceive as an "indirect expropriation" of their future profits. For example concerning the so-called "lost-sale" due to sharing between individuals, similar to what ACTA tried to impose.. And if the EU Commission considers it necessary, this negotiation mandate could be modified "on any issue"4"44. The Commission will, in a spirit of transparency, regularly report to the Trade Policy Committee on the course of the negotiations. The Commission, according to the Treaties, may make recommendations to the Council on possible additional negotiating directive on any issue, with the same procedures for adoption, including voting rules, as for this mandate." to include new fields. In the Internet field, leaked document have already shown that some provisions of TAFTA could have a deep impact on our freedoms online. Recent revelations about massive spying by the US of EU officials also casts a doubt on how such negotiations could in any case be fair and balanced.
If, after being negotiated outside of any democratic process, TAFTA were to come into force, the agreement provisions would apply for decades and affect hundreds of millions of citizens. Although the issues of the TAFTA negotiations obviously exceed the framework of a trade agreement, elected representatives, once the negotiations are over and the agreement concluded, will have no choice but to approve or reject it as a whole, without any possibility to weigh on its content.
Worse, the European Commission is constantly trying to reintroduce previously rejected provisions to under-negotiation international trade agreements (for example, entire paragraphs of ACTA, rejected by the European Parliament in July 2012, have been cut and pasted into the Europe-Singapore Trade Agreement). Such democratic bypass only serves some narrow private interests carried in the course of opaque negotiations by a small group of unelected individual who try to avoid at all costs what they see as a detrimental debate. As the civil society organizations have constantly urged, it is time to stop these undemocratic practices and to open a transparent and legitimate debate on these issues.
Once again, La Quadrature du Net solemnly calls on people with access to documents related to TAFTA to communicate them to the public without delay, and to contribute to the opening of a true public debate on every policy aspect supposed to be comprised in this trade agreement.
"The parody of transparency sets up by the Commission to forget the TAFTA problems won't fool anybody. This new trade agreement, negotiated in total opacity despite evidence that it would affect fundamental freedoms and crucial policy issues, is an offence to democracy. Opaque and designed to circumvent democracy, the US-EU trade agreement will be detrimental to citizens on both sides of the Atlantic." declares Jérémie Zimmermann, spokesperson for the citizen organisation La Quadrature du Net.
How to act against TAFTA?
Learn more about TAFTA and its dangers, spread the word around you, and contact your elected representatives to make sure they hear your voice.
Help us identify the TAFTA negotiators and their eventual conflicts of interests on our wiki.
If your are in Paris, on Sunday 24th November, take to the street and join the mobilisation initiated by the citizen organisation "Les Engraineurs" in protest of these undemocratic practices together with the cofounders of La Quadrature du Net.
| | | |
| --- | --- | --- |
| 1. | ↑ | "2. The Agreement shall be ambitious, comprehensive, balanced, and fully consistent with World Trade Organisation (WTO) rules and obligations." |
| 2. | ↑ | The legislation under development in the European Parliament on this issue could even be delayed in order not to be in conflict with TAFTA and US interests. |
| 3. | ↑ | This issue is particularly worrying: it could give to foreign compagnies the capacity to sue governments for what they perceive as an "indirect expropriation" of their future profits. For example concerning the so-called "lost-sale" due to sharing between individuals, similar to what ACTA tried to impose. |
| 4. | ↑ | "44. The Commission will, in a spirit of transparency, regularly report to the Trade Policy Committee on the course of the negotiations. The Commission, according to the Treaties, may make recommendations to the Council on possible additional negotiating directive on any issue, with the same procedures for adoption, including voting rules, as for this mandate." |