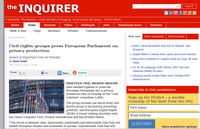 NINETEEN CIVIL RIGHTS GROUPS have banded together to press the European Parliament into a privacy protection vote on Monday at the "Civil Liberties" committee (LIBE). […]
Earlier this week the French group La Quadrature du Net urged supporters to contact their members of the LIBE committee and rapporteur Jan Philipp Albrecht with their concerns about the erosion of privacy laws and personal privacy in France.
"Citizens need effective legal tools to regain control over their personal data in the face of the predatory behaviors of giant companies whose business models are based on collecting everyone's data, favouring the rise of global surveillance." said Jérémie Zimmermann, spokesperson for La Quadrature du Net. "Such legal empowerment cannot be achieved without a proper public debate".
http://www.theinquirer.net/inquirer/news/2301299/civil-rights-groups-press-european-parliament-on-privacy-protection