[TheInquirer] MEPs are voting on ACTA this week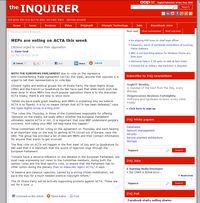 With the European Parliament due to vote on the repressive Anti-Counterfeiting Trade Agreement (ACTA) this week, anyone that opposes it is urged to tell their representative to vote Nay.
Citizens' rights and political groups the UK Pirate Party, the Open Rights Group (ORG) and the French La Quadrature Du Net have said that while much work has been done to show MEPs how much popular opposition there is to the draconian ACTA treaty, there is still time to show more. [...]
The final vote on ACTA will happen in the first week of July and La Quadrature Du Net said that it is important that the sound of rejection rings through the European Parliament.
"Citizens have a decisive influence on the debates in the European Parliament. We must keep expressing our views to the committee members, during both the opinion votes and the final report's vote, to ensure that the Parliament has no other option during the plenary than to massively reject ACTA," it says.
"A massive and clearcut rejection, carried by a strong citizen mobilization, will pave the way for a much needed positive copyright reform." [...]
http://www.theinquirer.net/inquirer/news/2180646/meps-voting-acta