[TechDailyDose] EU Parliament Resolution Signals Support For ACTA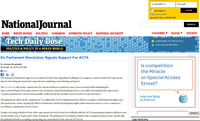 The European Parliament approved a resolution Wednesday signaling its willingness to support a controversial trade agreement aimed at boosting international cooperation in combating counterfeiting and piracy.
The parliament called on the commission "to confirm that ACTA's implementation will have no impact on fundamental rights and data protection, on the ongoing EU efforts to harmonize intellectual property rights enforcement measures, or on e-commerce," according to a parliament news release.
Despite this, the Paris-based Internet civil liberties group La Quadrature du Net said it was disappointed by the parliament's move. "All citizens concerned with democratic law making, the preservation of the online ecosystem, freedom of speech, privacy and access to medicines should work with their elected representatives to make sure that the European Parliament does not give its assent to ACTA," the group's spokesman Jérémie Zimmermann said in a statement.
http://techdailydose.nationaljournal.com/2010/11/eu-parliament-resolutio...