[Novinite] Bulgaria Anti-ACTA Rallies Get Anemic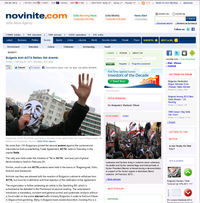 No more than 150 Bulgarians joined the second protest against the controversial international Anti-counterfeiting Trade Agreement, ACTA, held on Saturday in the capital Sofia.
The rally was held under the initiative of "No to ACTA," and was part of global demonstrations held on February 25.
Similar, small-scale anti-ACTA protests were held in the towns of Blagoevgrad, Vidin, Dobrich and Sandanski.
Activists say they are pleased with the reaction of Bulgaria's cabinet to withdraw from ACTA, but insist for a definitive and final rejection of the ratification of the agreement. [...]