[EurActiv] Italian presidency to support Parliament-backed telecoms reform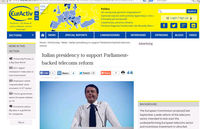 The incoming Italian presidency of the European Union is ready to support the European Parliament-backed overhaul of EU telecoms rules, despite widespread criticism of the plan from governments and leading operators. […]
Italy, whose presidency of the EU will start in July and will run until the end of the year, seems ready to go against the tide of other member states.
A diplomatic source confirmed that the objective of the incoming presidency is to defend the parliament's text and have it approved by the council. […]
The most controversial part of the reforms concern net neutrality, the freedom for Internet users to access different services without seeing their connections slowed down to favour alternative paid offers. […]
http://www.euractiv.com/sections/infosociety/italian-presidency-support-...