[Euractiv] EU in 'secret talks' to stop illegal downloads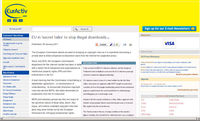 The European Commission stands accused of reneging on copyright rules as it is reportedly discussing a private deal to allow companies to disconnect users from the Internet for suspected piracy.
"These talks, if true, could well lead to the back-door imposition of a 'Hadopi-type' regime throughout Europe, with the Commission's imprimatur, and without any prior legal scrutiny and preconditions," Socialist & Democrat MEPs Stavros Lambrinidis (Greece) and Françoise Castex (France) argue.
An Internet advocacy group, La Quadrature du Net, highly doubts whether a judge would ever enforce the law as the evidence has been gathered by a private company and not by the police.
http://www.euractiv.com/en/infosociety/eu-secret-talks-illegal-downloads...