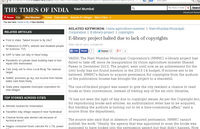 […]The Navi Mumbai Municipal Corporation's (NMMC) e-library project has failed to take off, since its inauguration […] in December 2012.[…] If sources are to be believed, NMMC's failure to acquire permission for copyrights from the authors or the publication houses has brought the project to a standstill.
The one-of-its-kind project was meant to give the city resident a chance to read books at their convenience, instead of visiting any of the six civic libraries.
"It has not seen the light of day due to copyright issues. As per the Copyright Act, for reproducing books and articles, an authorization letter has to be acquired, But tracking the authors is turning out to be a time-consuming affair," said a source from the department.
http://timesofindia.indiatimes.com/city/navi-mumbai/E-library-project-halted-due-to-lack-of-copyrights/articleshow/30959812.cms