Paris, 12 October 2012 – La Quadrature du Net publishes a letter sent to French ministers in charge of negociating CETA, the Canada – UE Trade Agreement, and calls them to act to protect our freedoms, in accordance with previous commitments.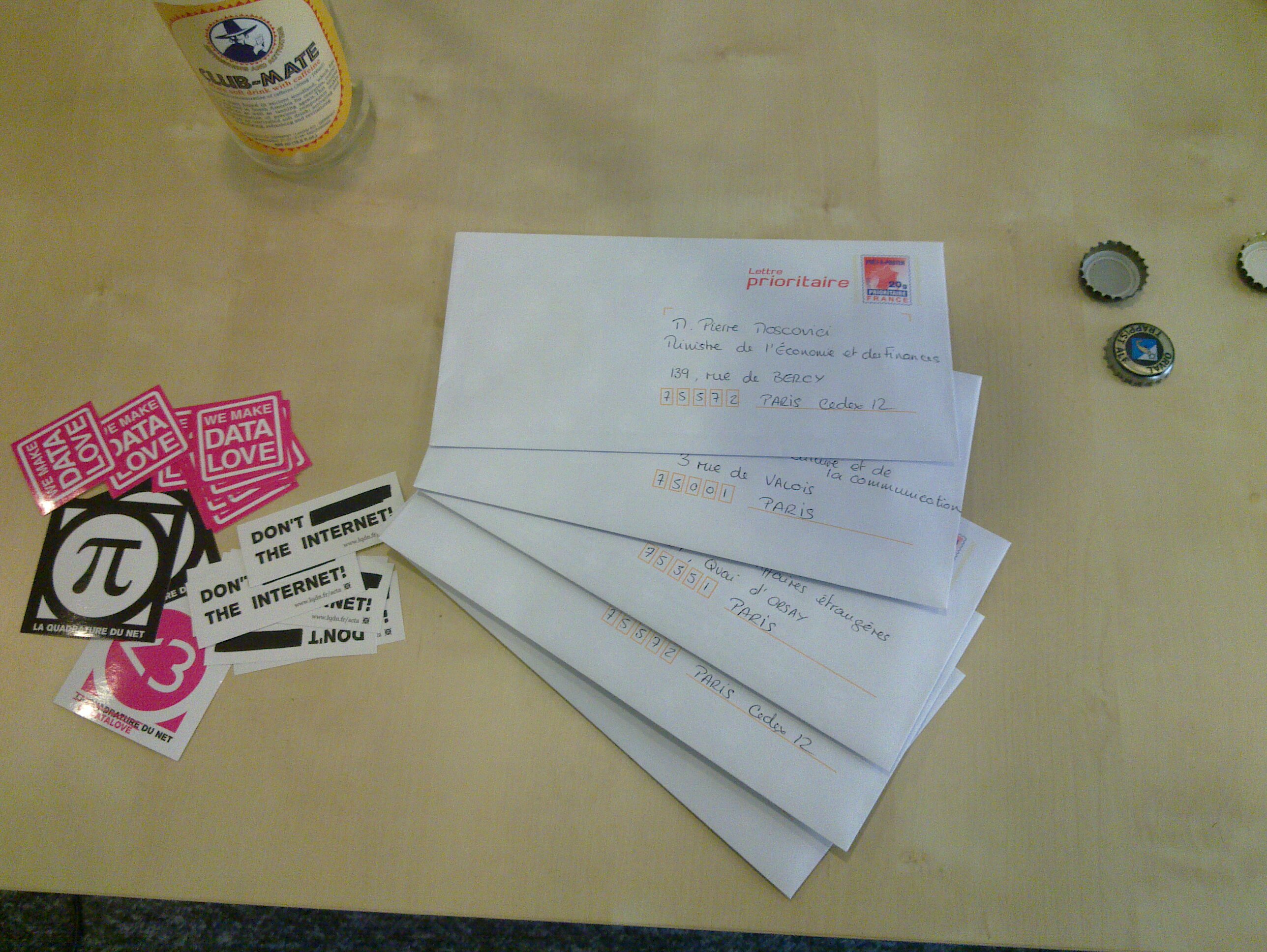 Letters sent to French Ministers
As the European Commission just confirmed that ACTA-like criminal sanctions are present in the current draft of CETA, and ahead of next round of negotiations1From October 15 to 26, in Brussels, La Quadrature du Net urges French ministers responsible for this matter to get rid of CETA's repressive measures. The citizen organisation invites European citizens to contact their government too2Details for the ACTA vote at the European Parliament are available on Memopol.
To (pdf – French):
Pierre Moscovici, Minister for Economic Affairs and Finance
Nicole Bricq, Minister for International Trade
Laurent Fabius, Minister of Foreign Affairs
Aurélie Filippetti, Minister of Culture and Communications
Fleur Pellerin, Deputy Minister for Small and Medium Enterprises, Innovation, and the Digital Economy
Bernard Cazeneuve, Deputy Minister for European Affairs
La Quadrature du Net
19 rue Richard Lenoir
75011 Paris
contact@laquadrature.net
06 15 94 06 75

To Mr Pierre Moscovici
Minister for Economic Affairs and Finance
Paris, 12 October 2012

Minister,

On July 4th, the European Parliament rejected ACTA, the Anti-Counterfeiting Trade Agreement, by a huge majority, responding to unprecedented citizen mobilization in the European Union. Out of the 69 French Members of the European Parliament, only 28, part of the EPP (conservative) group, voted for the agreement or abstained.

The rejection of ACTA is a major citizen victory against the repressive measures that negotiators tried to impose by bypassing the democratic process, with the support and participation of Nicolas Sarkozy's government. As such, the socialist party, as did the socialist group of the European Parliament, repeatedly stood against this agreement, showed support for citizen actions and demonstrations, and welcomed its rejection.

While the threat seemed to have faded away, a leak of the Canada-EU Trade Agreement (CETA), from February 2012, revealed ACTA-like clauses and revived citizens's concern. Despite the secrecy surrounding this agreement's negotiations, the European Commission has just confirmed that ACTA-like criminal measures are present in the current version of CETA. Such criminal measures, broad and disproportionate, are designed to combat widespread non-market cultural practices and target Internet actors driving innovation and growth.

Negotiation of theses criminal measures, falling under the competency of the Member States, is under the responsibility of governments, represented by the Council of the EU.

Therefore, in line with your past commitments, we call you to demand these criminal sanctions be withdrawn from CETA (and any other trade agreement, present or future), as well as any repressive copyright clauses. Such measures do not belong in a trade agreement, all the more when it is negociated in secret instead of being democratically debated. It is your responsibility to act accordingly during the next round of negotiations from October 15 to 26, and make sure that the final version of the agreement respects the European Parliament's decision and citizens's freedom.

We look forward to your reply and your concrete actions,
Respectfully yours,

Philippe Aigrain, Gérald Sédrati-Dinet, Benjamin Sonntag, Jérémie Zimmermann