Privacy - Personal Data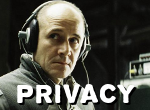 The protection of privacy is a fundamental right guaranteed by the Universal Declaration of Human Rights. In a democratic society, privacy is an essential enabler for other fundamental rights and freedoms, such as the freedom of expression and to form and join associations. However, many powers have an interest in watering down the protection of this fundamental right to increase the surveillance of citizens or to commercially exploit information about them by collecting, processing, storing and trading it. These practices, dangerous for our liberties both online and offline, are already widespread on the Internet.
The right to protect our privacy needs to be adapted to the digital era and strengthened to take up these new challenges. But the opposite is happening, the revision of the European regulation concerning the protection of personal data, initiated by the European Commission in 2012, could lead to watering down these safeguards, contrary to citizens' interests. Rather than bowing down to private influences, it is essential that policy-makers force companies to more transparency and accountability for the protection of our data and prohibit abuses.
Timeline
Ongoing
12 March 2014 - Vote of the Regulation on Data Protection
Past
Reference documents
Campaign websites
Analysis
European Parliament documents
Procedure file: Personal data protection: processing and free movement of data (General Data Protection Regulation)
Procedure file: Personal data protection: processing of data for the purposes of prevention, investigation, detection or prosecution of criminal offences or execution of criminal penalties, and free movement of data
Committees and Rapporteurs
The "Civil Liberties" (LIBE) Committee of the European Parliament is the main committee working on the Data Protection Regulation. The rapporteur is Jan Philipp Albrecht (Germany - Greens/EFA) - report
These committees will first vote on their opinions after holding "exchange of views" on draft reports in the coming weeks:

For the shadow rapporteurs and a more detailled timeline, see protectmydata.eu
Do you care about your privacy in the web?