Privacy - Personal Data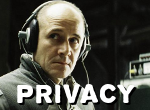 The protection of privacy is a fundamental right guaranteed by the Universal Declaration of Human Rights. In a democratic society, privacy is an enabler for other fundamental rights, such as the freedom of expression and to form and join associations. However, some powerful entities now have an interest in weakening the protection of this fundamental right to increase the surveillance of citizens and draw a profit by collecting, processing, storing and trading it. These dangerous practices are already widespread on the Internet.
The legal framework that protects privacy needs to be strengthend and adapted to the digital era. There are currently three major legislative developments.
The French law Loi de programmation militaire (LPM) which allows highly intrusive surveillance of citizens by the authorities without proper judicial oversight.
The European Parliament's Data Protection Regulation, adopted in first reading in March 2014, will now be considered on 5/6 June by the Council of the European Union.
The decision by the European Court of Justice of the European Union in April 2014 declaring the 2006 Data Retention Directive invalid, will force the European Institutions to draft new regulations and national governments to reconsider their laws that had implemented the Directive.
Timeline
To come
Early February (or March) 2016 - Final vote in Parliament
During 2018 - The new Regulation will come into force
Past
Reference documents
Campaign websites
Analysis
European Institutions documents
Committees and Rapporteurs
The "Civil Liberties" (LIBE) Committee of the European Parliament is the main committee working on the Data Protection Regulation. The rapporteur is Jan Philipp Albrecht (Germany - Greens/EFA) - report
These committees will first vote on their opinions after holding "exchange of views" on draft reports in the coming weeks:

For the shadow rapporteurs and a more detailled timeline, see protectmydata.eu
Do you care about your privacy on the web?