[Washington Internet Daily] Graduated Response' to Digital Piracy Debate Continues to Roil European Legislatures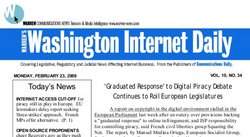 A report on copyright in the digital environment stalled in the European Parliament last week after an outcry over provisions backing a "graduated response" to online infringement, and ISP responsibility for controlling piracy, said French civil liberties group Squaring the Net. The report, by Manuel Medina Ortega, European Socialist Group, Spain, responds to a European Commission discussion paper on copyright issues in the knowledge economy.
[...]
Meanwhile, French Socialist members of parliament, preparing to vote on the controversial "Creation and Internet" law that sets up a graduated response regime for online infringement, introduced a proposal for a "creative contribution" for non-commercial music exchanges over P2P networks, said Philippe Aigrain, CEO of the Society for Public Information Spaces.
[...]