[theregister.co.uk] Europe drafts law to disconnect suspected filesharers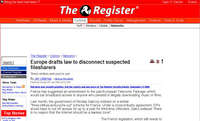 France has suggested an amendment to the pan-European Telecoms Package, which would bar broadband access to anyone who persists in illegally downloading music or films.
Action groups Netzpolitik.org, Open Rights Group and La Quadrature du Net (Squaring the Net) have been actively campaigning on the issue. They believe the amendments will "pave the way for the monitoring and filtering of the internet by private companies, exceptional courts and Orwellian technical measures".
http://www.theregister.co.uk/2008/07/06/europe_drafts_law_to_disconnect_...