[TelecomTV] The case of the disappearing amendment and the non-disappearing data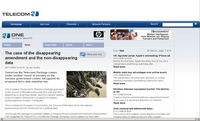 Tomorrow the Telecoms Package comes under another round of scrutiny as the German government comes out against its proposed telco data retention law.
[...]
Ominously the package as currently drafted is missing the all-important and hard-won Amendment 138 (supported by TelecomTV's Throttle the Package campaign) which appears to have been written out of the draft, much to the chagrin of interested observers. Such is the opaqueness of European politics that nobody is sure what this means.
Amendment 138, you might remember, was the last hour addition to the Telecoms Package to prevent a Europe-wide green light for so-called 3 strikes national laws (where users are disconnected from the Internet for downloading copyright-protected files). The gist of the amendment was that due process must be maintained over the matter of copyright enforcement - that meant that laws shouldn't be passed, or national policies implemented, that involved any sort of arbitrary disconnection of users from the Internet without proper legal scrutiny and at the very least the right of appeal.
But also strangely disappeared is one of the original package amendments which paved the way for three strikes by mandating regulators to promote 'lawful content'.
Tomorrow it should become clear what's happened to Amendment 138, what the likelihood is for Europe-wide 3 Strikes laws being introduced, and where the fight should go from here.
[...]
http://web20.telecomtv.com/pages/?newsid=44176&id=e9381817-0593-417a-863...