[Spy Blog] Still time to email your MEP regarding the Telecoms Package Amendments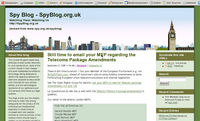 Still time to email your MEP regarding the Telecoms Package Amendments
There is still time to email / fax your Member of the European Parliament e.g. via WriteToThem.com, ahead of tomorrow's vote on some dubious amendments to some forthcoming European Union telecommunications and internet legislation.
See The Open Rights Group for details: ask your MEPs to vote for Telecom package amendments 133 and 138
La Quadrature du Net has a wiki with the Telecom Plenary Package Amendments in question.
http://p10.hostingprod.com/@spyblog.org.uk/blog/2008/09/still-time-to-em...