[Public Knowledge] France's "Model" Three Strikes Law Gets Decisively Rejected by Parliament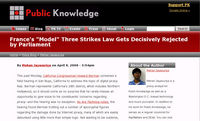 [...] If those numbers seem low, they are--as The New York Times notes, "most of the 577-member legislature decided not to show up — an indication, analysts said, of how unpopular the proposal was among voters in France."
Jérémie Zimmermann, co-founder and spokesperson for French activist group La Quadrature du Net credited the public's swift response and online activism. "This is a formidable victory for all citizens. This vote shows that it is still possible to make oneself heard. It is a fantastic example of how to use the Net to fight against those who are trying to control it," he said. "Individual liberties, in the end, have not been sacrificed to try to preserve the corporate interests of some obsolete industries."
Just as the New Zealand government did when its three strikes mandate was abandoned, the office of French President Nicolas Sarkozy has vowed to try its luck again with an amended version of the bill. And as is the case in New Zealand, it seems unlikely that they'll find success given both the intensity of the public outcry and the breadth of the international press' coverage of the botched initiative. The lesson here is that citizens will not stand idly by as massive corporations are given the power to criminalize and persecute Internet users without due process. [...]