[NYTimes] Plan to Curb Internet Piracy Advances in France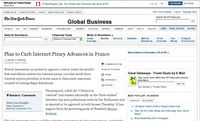 [...] Nonetheless, Internet advocates call the French proposal legally unsound on the ground that there are inadequate the provisions for challenging an action, and because it gives industry groups the power to police the Internet. Others question whether the law would unfairly penalize those whose wireless broadband accounts are misused by others. The French law tries to anticipate this by making it a civil infraction for citizens to fail to "secure" their broadband accounts by using approved filtering technology.
[...] Other critics say the law will not stop illegal downloads.
Jérémie Zimmermann, director of La Quadrature du Net, an Internet advocacy group based in Paris, said some computer users would turn to encrypted downloads and other methods to avoid detection. On Wednesday, a Swedish company, the Pirate Bay, began a service called Ipredator, which lets users use its virtual private network to make anonymous downloads for 5 euros a month.
"The French law will only drive people further underground," Mr. Zimmermann said. "It will make the situation worse."
http://www.nytimes.com/2009/04/09/business/global/09net.html