[EurActiv] Privacy Shield agreement signed off despite vote abstentions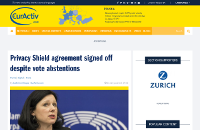 EU member states today (8 July) signed off on the controversial Privacy Shield agreement for data transfers to the US, locking down the final deal after the European Commission haggled for months with the US over legal details.
Four out of 28 EU diplomats abstained from the final vote. The Commission instructed diplomats not to publicly state how they voted. [...]
Schrems already said he would challenge Privacy Shield in court as well because the deal doesn't have strict enough privacy safeguards. [...]
http://www.euractiv.com/section/digital/news/privacy-shield-agreement-si...