[WashingtonPost] Obama administration opts not to force firms to decrypt data — for now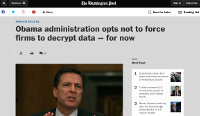 After months of deliberation, the Obama administration has made a long-awaited decision on the thorny issue of how to deal with encrypted communications: It will not — for now — call for legislation requiring companies to decode messages for law enforcement.
Rather, the administration will continue trying to persuade companies that have moved to encrypt their customers' data to create a way for the government to still peer into people's data when needed for criminal or terrorism investigations. [...]
[P]rivacy advocates are concerned that the administration's definition of strong encryption also could include a system in which a company holds a decryption key or can retrieve unencrypted communications from its servers for law enforcement. [...]
To Amie Stepanovich, the U.S. policy manager for Access, [...] the status quo isn't good enough. "It's really crucial that even if the government is not pursuing legislation, it's also not pursuing policies that will weaken security through other methods," she said. [...]
https://www.washingtonpost.com/world/national-security/obama-administrat...