[DutchNews] KPN joins criticism of Dutch government's new phone tap rules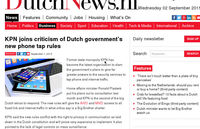 Former state monopoly KPN has become the latest organisation to slam the government's plans to give far greater powers to the security services to tap phone and internet traffic. […]
KPN said the new rules conflict with the right to privacy in communication as laid down in the Dutch constitution and will prove very expensive to implement. It also pointed to the lack of legal controls on mass surveillance. […]
British privacy watchdog Privacy International has already described the proposals as among the most far-reaching in the world and says they will provide a poor example for companies without strong democratic traditions.
'We would strongly urge the Dutch government not to expand surveillance beyond what is necessary and reasonable in a democratic society', the organisation said.
http://www.dutchnews.nl/news/archives/2015/09/kpn-joins-criticism-of-dut...