[Thewhir] Legal Changes Give French Police Power to Take Down Porn, Terrorism Sites without Court Order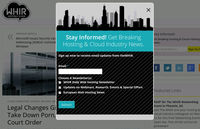 French police can order Internet service providers to take down websites without a court order on child pornography or terrorism accusations as of Tuesday. The legal changes follow a statement late last week by President Francois Hollande that companies hosting extremist messages are "accomplices." […]
DNS blocking can be easily circumvented, however, says Felix Tréguer of French internet advocacy group La Quadrature du Net. The group is also concerned about legal content being blocked.
The Electronic Frontier Foundation shares concerns about the new system. "In light of the recent arrests that have followed the Charlie Hebdo attacks — many of which are clearly overboard — I would say that France's government needs to seriously think about whether this law will stop terrorists, or merely chill speech," Jillian York of the EFF told The Verge in an email. […]
http://www.thewhir.com/web-hosting-news/legal-changes-give-french-police...