[PolicyReview] The new Facebook data policy: like or dislike?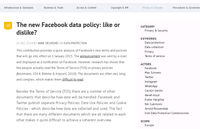 This contribution provides a quick analysis of Facebook's new terms and policies that will go into effect on 1 January 2015. The announcement was sent by e-mail and displayed as a notification on Facebook. However, research has shown that few people actually read the Terms of Service (TOS) or privacy policies (Bechmann, 2014; Böhme & Köpsell, 2010). The documents are often very long and complex, which makes them difficult to read. […]
In the updated policy, Facebook explicitly acknowledges that it is tracking its users to collect data. The following statement speaks to this: "We're continuing to improve ads based on the apps and sites you use off Facebook." While Facebook previously denied tracking allegations, developer Nik Cubrilovic showed that Facebook's 'Like' button still sends data back to the platform even when users had logged out. […]
If I share a link with my friends only and one of my friends re-shares this private link and her privacy settings are set to public, my private post will become public. This means that your friends can make your private content public. […]
http://policyreview.info/articles/news/new-facebook-data-policy-or-disli...