[Gigaom] EU net neutrality law, almost a done deal, may face restart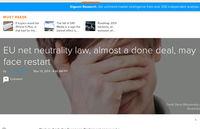 Back in April, the European Parliament approved [...] telecommunications reforms that would bring in net neutrality [...]. This "Telecom Package" is currently approaching its final hurdle – approval by EU member states, who are negotiating it with the new European Commission – but it now looks like the Commission is about to hit rewind or worse.
[...] The Wall Street Journal reported Friday that it has seen a "working document" sent by new European Commission chief Jean-Claude Juncker to the various commissioners that indicates a potential revamp of not-yet-finalized laws, which would include the Telecom Package. [...]
An annex to the letter recommends "a major new initiative" called the "Digital Single Market (DSM) Package."
https://gigaom.com/2014/11/14/eu-net-neutrality-law-almost-a-done-deal-m...