[Salon] You don't "have nothing to hide": How privacy breaches are quietly controlling you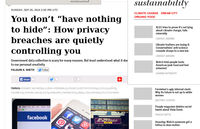 Government data collection is scary for many reasons. But least understood: what it does to our personal creativity [...]
The usual response to this information is: "I have nothing to hide. It doesn't matter if the state has my information." Critics like Glenn Greenwald point out one response, along the lines of "OK, hand over your passwords to your email and bank accounts and credit card information." This is certainly right. [...] Yet, it doesn't exhaust the other reasons why data collection and invasion of privacy is a problem about which many of us should be disturbed.
Another reason why privacy is important [...] is that privacy is crucial to personal exploration, creativity, dissent — those interests and thoughts that reflect the complexity of human beings and their ability to flourish and lead meaningful lives. But as we also know, creativity and dissent can be disruptive to the smooth functioning of society — making the lives of bureaucrats and autocratic politicians much harder because their authority would be constantly challenged. [...]
http://www.salon.com/2014/09/28/you_dont_have_nothing_to_hide_how_privac...