[NPR] In Europe, Google Stumbles Between Free Speech And Privacy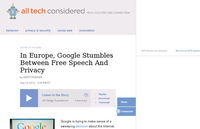 Google is trying to make sense of a sweeping decision about the Internet. In May, the European Court of Justice ruled that people have the right to be forgotten. That is, if you don't like something about you that pops up on a Google search, you can make Google hide that result.
The top court left a lot of room for interpretation. Google could have dragged its feet or waited for privacy regulators in the European Union to give more direction. Instead the search giant has moved swiftly to implement the ruling. But it's hitting some bumps. [...]
http://www.npr.org/blogs/alltechconsidered/2014/07/14/331384825/in-europ...