[ProPublica] Meet the Online Tracking Device That is Virtually Impossible to Block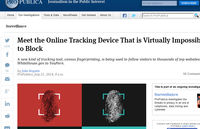 [...] A new, extremely persistent type of online tracking is shadowing visitors to thousands of top websites, from WhiteHouse.gov to YouPorn.com. [...]
[It] works by instructing the visitor's Web browser to draw a hidden image. Because each computer draws the image slightly differently, the images can be used to assign each user's device a number that uniquely identifies it.
[...] They can't be prevented by using standard Web browser privacy settings or using anti-tracking tools such as AdBlock Plus.
The researchers found canvas fingerprinting computer code [...] on 5 percent of the top 100,000 websites [...]
http://www.propublica.org/article/meet-the-online-tracking-device-that-i...